SIM Card Data Recovery Software
Price: $69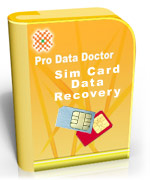 SIM Card Data Recovery Software is capable of fetching lost, deleted data of mobile phone sim card. Extracts deleted, lost, corrupted SMS (Short Messaging Service) (including inbox, outbox, drafts, sent items) and contact numbers (including fixed, dialled, received, deleted) along with IMSI number, ICC-identification number, service provider name, location of service provider etc. Sim card data rescue tool gathers sim card lost information from the mobile phone using PC/SC or Phoenix standard USB sim card reader. Mobile software shows the report of recovered information including your cell phone sim card lost messages, phone numbers (phone book directory) etc.
Factors Causing Data Failure:
Accidental erase of phone book memory and text messages.
Corrupted mobile Sim card.
Human error.
Virus infected mobile phone Sim Card.
Advanced Features:
Undelete both read and unread text messages including inbox, drafts, sent items, outbox and even deleted messages.
Card recovery software retrieves all the information along with date and time details in very less time.
Detailed report of all the recovered data can be prepared in TXT format.
Step-by-step user guide is provided with the software to help user while operating the software.
Provide GUI technology based interface for easy handling of the utility.
All the data can be recovered easily without taking any kind of help from technical users.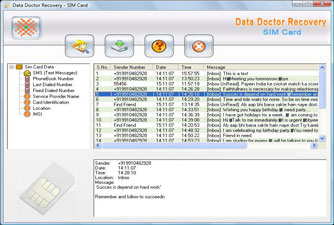 Software Screenshot