Removable Media Data Recovery Software
Price: $45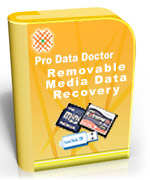 Removable Media Data Recovery Software is designed to restore data that has been deleted or corrupted from removable storage device such as USB drives, Memory cards, PDA mobile phones, mp3 players etc. Removable disk recovery utility will scan the media and search for damaged, corrupted or deleted files and displays the recovered data in tree like hierarchy structure. Compact flash recovery tool retrieves files and folders supporting major file formats including jpg, jpeg, mov, wav, giff, tif, wma, txt, drw, aac, wmp, midi, mpg, mpeg, pct, pdf, pst, xls, csv etc from all capacity's removable media drives viz. 64MB, 128MB, 256MB, 512 MB, 1GB, 2GB, 4 GB and even higher capacity drives.
Supported Removable Medias: USB Drives (Memory Stick, Pen Drive, Zip Drive, Thumb Drive, Jump Drive and more), Memory Cards (Secure Digital Card, Multi Media Card, XD Card, Smart Media Card, Compact Flash Card and more), Windows Based Mobile Phones (PDA, Pocket PC, Hand held PC Device, Palm Device, Smart Phone and more) etc.
Supported Recovery Media Brands: Acer, Kodak, Hitachi, Canon, Logitech, i-mate, Fujifilm , Nokia, Palm Treo 700w , HP iPAQ, SanDisk, Audiovox, Kingston, Sony Ericsson, Siemens and more.
Advanced Features:
Facilitate retrieval of data from corrupted, damaged, formatted removable media drives in few minutes.
Support drives of all capacities including 64MB, 128MB, 256MB, 512 MB, 1GB, 2GB, 4 GB and even higher capacity drives.
Recovers files and folders even if the storage media is corrupted and can not be accessed by the user.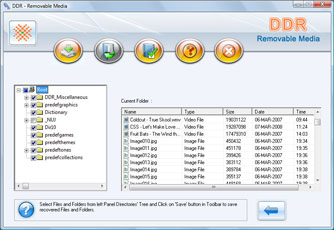 Software Screenshot