FAT Data Recovery Software
Price: $69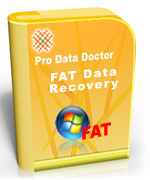 FAT Data Recovery Software salvages your lost, corrupted, damaged, inaccessible, unusable files and folders supporting all file formats including bmp, txt, mp3, mp4, aac, avi, tiff, giff, jpg, jpeg, wma, wmv, wav, pdf, pst, drw, csv, ppt, xls, doc, dat, msg, mpa, mid, midi, raw etc from FAT file system based partitioned hard disk drives. Advanced technology based algorithms is used to retrieve lost data in just few minutes without any technical help. Easy to follow, step-by-step instructions provided with the software that helps the user to rescue data without bearing any kind of difficulty during retrieval process.
Factors Causing Data Failure: Formatted drives, Virus attack, Accidental deletion, MBR/DBR corruption, Booting errors, Damaged partition table, Using Shift + Delete keys for data deletion, Inaccessible partition, Logically crashed hard disk drives, Software malfunctioning, Emptied recycle bin folder, Operating System Failure etc.
Supported Hard Disk Drive Brands: Acer, Hitachi, Western digital, Sony, Maxtor, Lenovo, Transcend, Samsung, IBM, HP, Seagate, Laser, Fujitsu, Toshiba, Quantum and more.
Advanced Features:
Cost-effective solution for the recovery of lost data from hard disk drives.
Fully automated software recovers data even if the messages like "Drive not formatted" or "Drive not detected" is displayed on computer.
Recovery of long name files and folders are supported.
Based on GUI (Graphical User Interface) technology provides highly interactive GUI interface to the user!
No need of any technical help, even a layman can operate the software easily.
Software Screenshot