iPod Data Recovery Software
Price: $45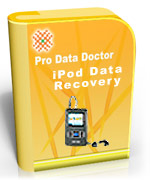 iPod Data Recovery Software provides data recovery solution for all Apple iPod portable media players as they get technologically advanced features in every short time period. File retrieval software securely retrieves your entire deleted, corrupted, formatted files and folders (containing text documents, songs, music, video, playlists, images, audio, contact numbers and other information) from all major Apple iPod models.
Factors Causing Data Failure: Accidental deletion, Virus attack, Data deleted using iTunes software, Improper restoration, Human error, Frozen iPod files etc.
Supported Apple iPod Models: iPod Classic, iPod Mini, iPod Touch, iPod Shuffle, iPod Photo (also known as iPod with colour display), iPod Nano and Miscellaneous.
Advanced Features:
Support retrieval of lost, erased, deleted, damaged, corrupted songs, music, images, audio, video, text, playlists, pictures and all supported files of iPods.
Provides support to all major file formats including aac, aiff, mp3, wav, mpeg4, jpeg, gif and many more.
Easy, fast and secure music-songs retrieval software!
Support retrieval of data from equivalent mp3 media player brands that includes HCL, HP, Panasonic, Samsung, Sony, Toshiba etc.
Uses advanced recovery techniques to provide better recovery of data to the user.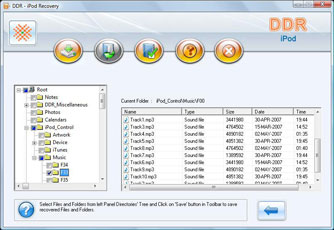 Software Screenshot