NTFS Data Recovery Software
Price: $69
NTFS Data Recovery Software retrieves lost data after hard drive failure. The professional retrieval software works with damaged as well as with repartitioned and reformatted hard disk drives. Data retrieval tool increases your chance of complete data recovery even if your hard drive fails or your data is corrupted. Deleted file recovery software is capable of rescuing long size files and folders even with long and complex file names. Software uses advanced algorithms for retrieving the lost data that results in the dynamic recovery of Office data file, MS Excel Worksheet, Application files (like music, audio, video, images, pictures, movie files etc), Microsoft Access files, Microsoft Word document, Adobe Acrobat Reader files, Photoshop files, MS Paint files etc.
Factors Causing Data Failure: Formatted disks, Virus attack, Accidental deletion, MBR/DBR corruption, System Fault, Power failure, Emptied recycle bin, Inaccessible files, Incorrect CMOS setting, Software malfunctioning, Logically crashed hard disk drives, Using Shift + Delete keys for data deletion etc.
Supported Hard Disk Drive Brands: Acer, Hitachi, Western digital, Sony, Maxtor, Lenovo, Transcend, Samsung, IBM, HP, Seagate, Laser, Fujitsu, Toshiba, Quantum and more.
Advanced Features:
Provide safe and secure data recovery support to all the users.
Cost-effective and time saving recovery solution in comparison with other expensive and complex data recovery utilities!
Restore inaccessible files and folders from damaged, partitioned or corrupted hard disk drives.
Multi storage for hard disks and/or other storage media including all IDE, SATA, EIDE and SCSI disk devices.
Facilitate saving recovered files at user specified location for future reference.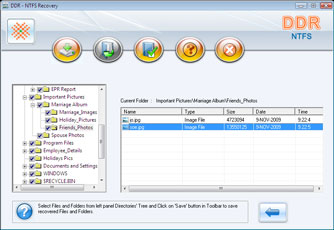 Software Screenshot