MS Access to MySQL Database Converter
Price: $45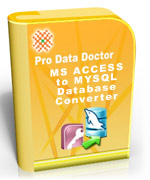 MS Access to MySQL Database Converter converts your MS Access database records into MySQL database records even including password protected MDB database files. Provides full structure support while migrating the database (i.e. the database is converted with support to indexes, primary keys, data types and attributes). Affordable database converter with its advanced techniques is capable of converting the database records without any loss of information and with support of converting the database either as a whole or partial as per user requirement.
Advanced Features:
Easily convert Microsoft Access database records into MySQL database records.
Quickly converts password protected MDB files of MS Access into MySQL database records.
Provide facility to migrate database as per your requirement i.e. convert either whole database or selected tables.
Support Unicode architecture while converting the database.
Facilitate overwriting the database records into existing database or saving them at new specified location.
Accurate database conversion is possible with this software in just few minutes.
Support major versions of both MS Access and MySQL.
Graphical user interface is provided to make the conversion utility highly interactive for the user.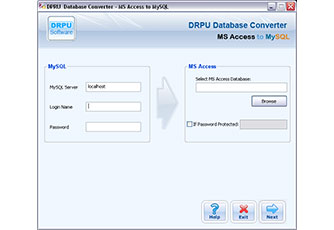 Software Screenshot