Pocket PC to Mobile Text Messaging Software
Price: $45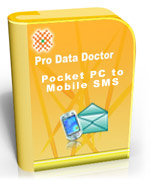 Pocket PC to Mobile Text Messaging Software is easy to use yet powerful text messenger that allows user to send bulk SMS from their Windows based Pocket PC, PDA mobile phone devices to other mobile devices. Mobile SMS software tool is well suited for delivering the messages like promotion, reminder, alerts, special notice, personalized SMS, campaign meeting, market news, event alert and notifications, season greetings, invitation, contacting employees and many more due to its fast messaging capability.
Mobile phone messaging service support expandable phone book storage i.e. unlimited contact numbers can be easily stored and can be imported directly from the phone book contact list. Bulk text messenger is a cost-effective messaging utility as it doesn't require any internet connection for sending the SMS around the world.
Advanced Features:
Support sending SMS or text messages to anyone, anywhere, anytime from your Windows based mobile phone devices to other mobile devices.
Support all major Windows based Pocket PC, PDA mobile phones of all major brands.
No need of internet connectivity.
Fast enough to send messages on any network, national or international.
Useful utility for Home or business organisations etc.
Support adding contact numbers either manually or by importing from the phone memory contact lists.
Easy-to-follow, step-by-step descriptive user guide is provided with the messaging utility to assist user while handling the software.
No further technical assistance is required and even a layman can send messages easily with this utility.