PC to Mobile Text Messaging Software
Price: $69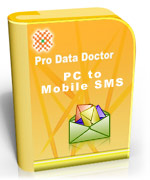 PC to Mobile Text Messaging Software is capable of sending text messages from your computer system using Windows based Pocket PC mobile phones to other mobile phone devices in just one click. Bulk SMS utility is suitable for those users who wish to communicate with their friends through SMS as well as for professionals using GSM text messaging services to communicate with their employees in emergency or to call the individuals for job purposes.
Text messaging service allows user to send unlimited SMS to individual or group of any country or network (nationally or internationally) in single click. Provides facility of managing the recipient's contact list by either adding them manually or loading them directly from the phone book contact list.
Advanced Features:
Convenient to use as it sends bulk SMS from your PC using PDA mobile devices to other mobile devices.
Capable of sending bulk SMS in one click just by importing the phone number's list directly from phone book memory.
Fastest delivery of text messages is possible on national and international networks from any country of the world.
Helpful in sending urgent messages, job alerts, promotional campaigns, reminders to the family, friends, employees, business partners etc.
Support sending of SMS to individual or groups.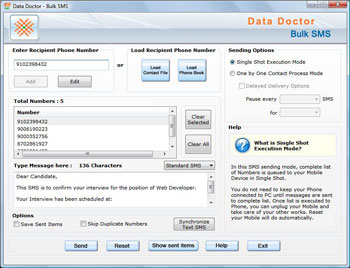 Software Screenshot