Pocket PC Forensic Software
Price: $79
Pocket PC Forensic Software, a professional and ultimate solution helpful for investigation officers, law enforcement units, forensic officers, government officers, police departments, criminal and other investigations, detectives, army, customs, tax services etc. Pocket PC information security utility is responsible for extracting complete mobile phone details including mobile's database, file, OS registry and phone information records to make them useful for the purposes of investigation.
Forensic analysis tool with its higher techniques perform in-depth analysis on the cell phone device to access the files that can't normally be accessed by an untrained person, these examinations could provide potentially relevant evidence and/or investigative leads fulfilling forensic agency's needs. Facilitate generating reports of the extracted data in HTML or TXT file format with support to restoring the data at specified location for future reference.
Advanced Features:
Helpful in extracting mobile phone's detailed information!
Analyzes cell phone's database records, OS Registry records, file records and phone information records in easiest way.
Cost effective utility extract mobile information details including Manufacturer Name, Model, Revision, Serial Number and Subscriber Number etc.
HTML and TXT report of the extracted cell phone data can be generated without taking much time.
The reports can be saved at user specified location for later use.
The software can be operated by any person, no need of any kind of technical assistance.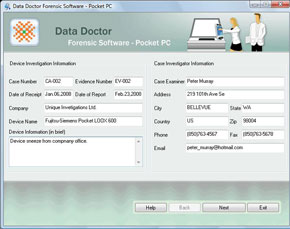 Software Screenshot