MSI to EXE Creator
Price: $49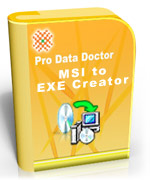 MSI to EXE Creator is a professional solution helpful for all the software developers, programming professionals, programmers and coders who wish to convert MSI installation setup files into EXE file format. Setup creator is overall responsible for creating executable (EXE) file from the existing Windows Installer (MSI) file in most convenient and accurate manner. All this can be achieved in a user friendly easy environment just by selecting the MSI file folder path in the setup maker window. The MSI to EXE generator automatically creates Executable (.exe) file from existing Microsoft Installer (.msi) Files.
Secure setup creator utility allows users to save the created EXE (executable) file installation setup packages at specified location so that they may used in future as and when required. The original functionality and structure of MSI format files remain unchanged while creation of EXE (executable) file installation setup packages from existing Microsoft .Net Framework MSI installation setup packages.
Advanced Features:
Easily and quickly creates EXE format file from MSI format file.
Prevent loss of data during creation of EXE installation setup package from existing MSI installation setup package.
Facilitate user to save the created executable file at user specified location.
Maintains full features and functionality of the Windows Installer file while conversion.
Provides GUI based user interface for easy operation of the software.
All the beginners can easily handle the software as no technical assistance is required during conversion.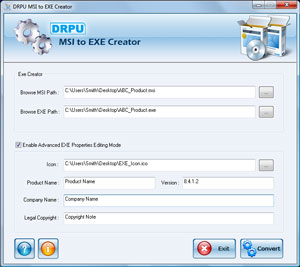 Software Screenshot