Internet Explorer Password Recovery and Unmask Tool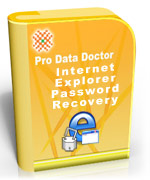 Internet Explorer Password Recovery and Unmask Tool is a comprehensive solution to recover and unmask all your lost or forgotten IE and windows application saved passwords instantly. All your important password protected applications can be unlock easily using Data Doctor's instant password revealer even if you have lost your passwords and not able to strike your passwords in mind.
Cost-effective password management utility uncovers multilingual and complex Internet Explorer saved passwords hidden behind asterisks (*****) in seconds. Users can easily protect their Windows documents with passwords without worrying about the password loss as saved passwords can be accurately recovered by our software from Windows applications and from all major versions of internet explorer. Password retrieval program provides its users an easy and quick way of recovering you lost password, just drag and drop the lens with the mouse over the password field, and your password will be displayed instantly.
Advanced Features:
Helpful for webmasters, database administrator, computer professionals who mostly tend to forget their mail account passwords.
Recovers passwords and user ids for all accounts created on Internet Explorer browser.
Provide recovery of the passwords for messengers and all other chatting utilities.
Instantly retrieve even complex passwords created in multi languages.
All windows application's passwords can also revealed accurately.
Compatible with all major versions of Internet Explorer.
Provide user-friendly graphical user interface.
Easy-to-follow step by step user guide is provided to the user for easy operation of the software.
Technical assistance is not required as the software is simple and secure to use.