Backlink Checker Utility
Price: $45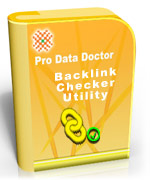 Backlink Checker Utility helps you to find out the back link status of advertiser's website on the publisher's website in real time. The link analyzer tool checks the availability of advertiser website link onto publisher's website thus resulting in the increase of owner's website popularity on World Wide Web. Website back link analyzing utility automatically checks the back links (popular as incoming links, inbound links, inward links or inlinks) and proves to be best alternate solution to manual and time consuming backlink checking process.
Link checker utility is reliable solution that frequently sends alert notification to the user at specified email address if site is unavailable, link status not found or advertiser page can't be displayed on the publisher's website. Allow user to generate back link status report in TXT or HTML format as per requirement for future use.
Advanced Features:
Analyzes advertiser's website backlink status on various publisher website in real time.
Time saver utility as the software analyzes the website's back link status automatically.
Support all HTTP (Hyper Text Transfer Protocol) and HTTPS (Hyper Text Transfer Protocol over Secure Socket Layer) websites.
Detailed backlink status report can be prepared either in TXT or in HTML format as per user's choice.
Notify user through e-mail if the back links are not found on various publisher's website.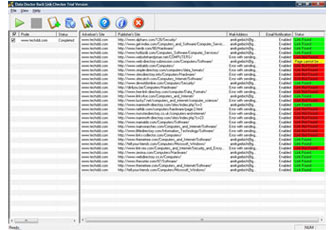 Software Screenshot