Billing and Inventory Management Software
Price: $45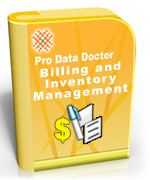 Software easily manages customer records, voucher entries, incomes and expense details of any enterprise. Financial accounting software effectively monitors ongoing daily business transactions and automatically records the entire sale/purchase details and inventory/stock records of any corporation.
Benefits of using Billing and Inventory Management Software
Facilitates business enterprises to save precious time in managing financial records.
Provides systematic and smooth way to manage day-to-day business records.
Automatic updating and adjusting Company stock and inventory records.
Accurate calculation of sale\purchase records and other business expenses.
Computerize generation of bills and other accounting reports.
Speedy data entry mode of entire customers and business details.
Reduces data redundancy and duplicity errors in financial records.
Business accounting software helps in increasing profit margins, enhanced productivity and facilitates greater customer satisfaction by effectively maintaining the billing and inventory system of the Company. Software facilitate corporations by providing the detailed invoice and ledger reports, sales and purchase reports, profit-loss reports, balance sheets and other fiscal reports in real time, with an option to print for future uses.
Simple billing software provides best alternative from manually handling accounting records and complex pen-paper based task by offering computerize, speedy and accurate management of financial records and reports. Cost-effective utility has low price tag with user-friendly interface and easy to use for both novice and experts. Windows accounting software has do-it-yourself feature and easy to operate without requiring any expert guidance, thus useful for Home and Office use.
Software Working Capabilities:
Easily creates new Company profile with capability to maintain customers/vendors records.
Effectively prepares Voucher entries related to Payment, Receipt, Journal, Debit, Credit and Production.
Efficiently manages Accounting records like Statement, Day book, Cash book, Bank book, Journal book, Debit note report and Credit note report.
Provide detailed Stock, Sale, Purchase and Production reports of the organization.
Effectively manages income and expense records of the Company.
Accurately prepares balance sheets, profit/loss records and trial balance.
Provides facility to create multiple currencies or convert currency as per the requirement.
Easily facilitates Bill Sundry creation and Tax type including Sale Tax and Purchase Tax.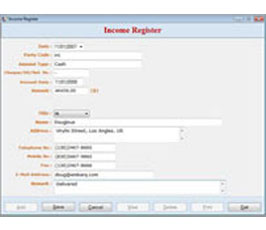 Software Screenshot